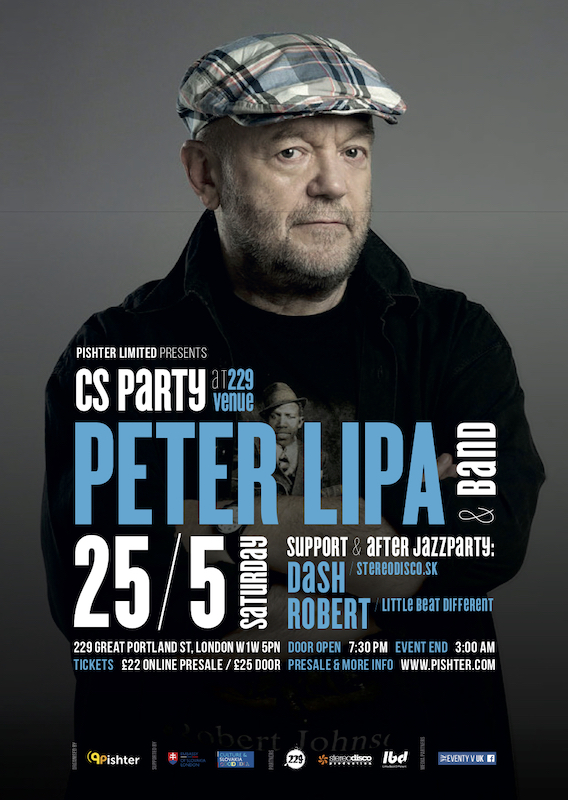 CS PARTY@229 VENUE with PETER LIPA & BAND
DATE:
25.05.2019
TIME:
19:30
VENUE:
229 VENUE, 229 Great Portland St, London W1W 5PN
The Biggest Slovakian jazz singer PETER LIPA & his BAND are coming to London!
Get ready for their premiere gig at The 229 Venue with number of well know hits like "Maturantky, "Štyri kone vrané", "Páni v najlepších rokoch"and many many more.
Before and after the concert there will cs jazz warm up and afterparty with DJ Dash (Stereodisco) and DJ Robert (Little Beat Diffrent
The event supported by: Embassy of Slovakia London, Culture & Slovakia good idea
NOTE!!! CS PARTY @ 229 VENUE with PETER LIPA & BAND has unallocated seatings and standing, please ignore seating numbers on your tickets generated automatically by our web engine. Thank you Pishter
POZNÁMKA!!! CS PARTY @ 229 VENUE with DESMOD je na sedenie bez rezervácie a státie!!!
Prosím ignorujte čísla sednia na vstupenkách, ktoré systém generuje automaticky.
This event is strictly for over 18 with valid ID !!!
Vstup len pre osoby staršie ako 18 rokov s platným dokladom totožnosti!