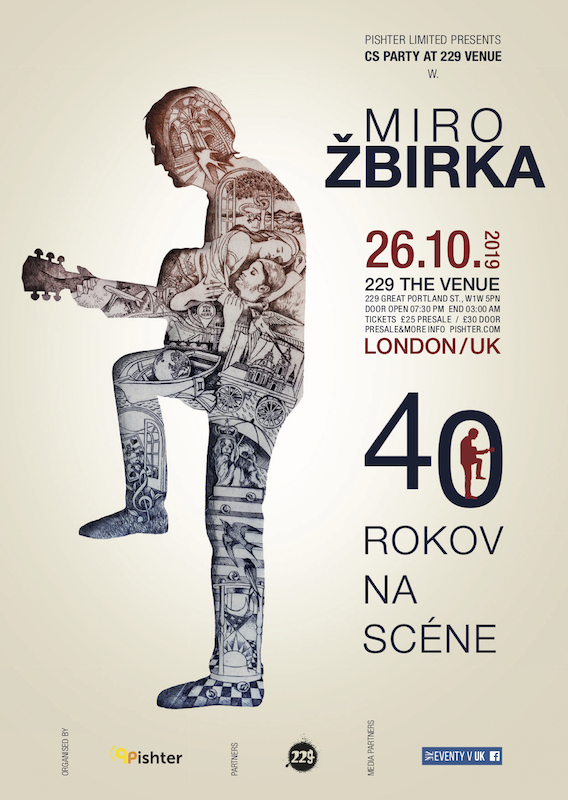 CS PARTY @ 229 VENUE with MIRO ŽBIRKA
DATE:
26.10.2019
TIME:
19:30
VENUE:
229 Venue, 229 Great Portland St, London W1W 5PN
Miro Žbirka – žijúca legenda česko-slovenskej hudobnej scény oslavuje tento rok 40. výročie svojej bohatej hudobnej kariéry. Ako inak môže muzikant oslávovať než na koncertnom pódiu?! …A to hneď tri krát v Londýne, Prahe a Bratislave. Nenechajte si újsť skvelú show plnú hitov na ktorej budú Mekyho doprevádzať muzikanti z Abbey Road Studio
Blair Cunningham, Hamish Stewart, Pearse MacIntyre, Robbie McIntosh, Rob Cass, Dean Ross, Jon Hall, George Stewart známi zo spolupráce na albumuch Paula McCartneyho a či mnohých ďalších.
Miro Žbirka – a living legend of slovak and czech popular music is celebrating his massive 40 years long music carrier by concerts in London, Prague and Bratislava.
Dont miss this greatest hits show supported by Abbey Road Studio musicians he was recording his last two albums with.
Drums – Blair Cunningham
Bass – Hamish Stewart, Pearse MacIntyre
Guitar – Robbie McIntosh, Pearse MacIntyre, Rob Cass
Keyboards – Pearse MacIntyre
Piano – Dean Ross, Jon Hall, George Stewart
Percussion – Rob Cass
POZNÁMKA!!! CS PARTY with MIRO ŽBIRKA je na státie!!!
Prosím ignorujte čísla sednia na vstupenkách, ktoré systém generuje automaticky.
ĎAKUJEME váš Pishter
NOTE!!! CS PARTY with with MIRO ŽBIRKA is for standing only, please ignore seating numbers on your tickets generated automatically by our web engine.
Thank you Pishter
Vstup len pre osoby staršie ako 18 rokov s platným dokladom totožnosti!
This event is strictly for over 18 with valid ID !!!