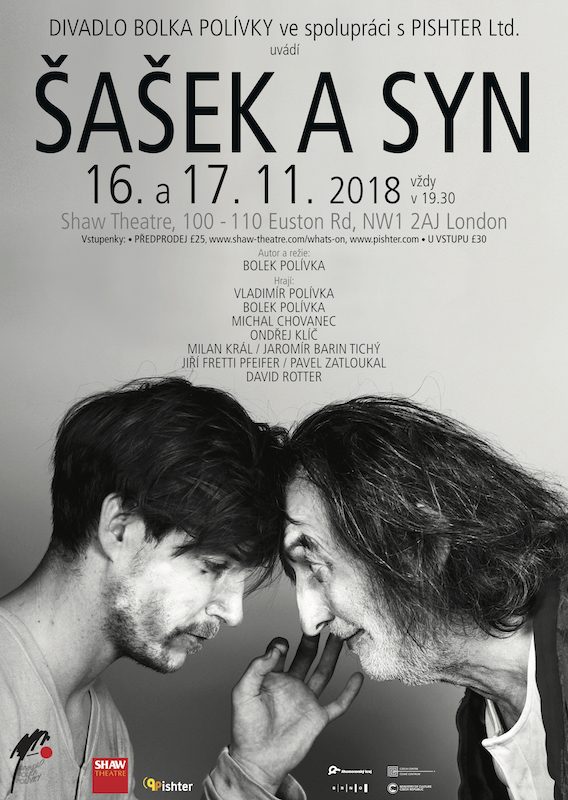 DIVADLO BOLKA POLÍVKY – ŠAŠEK A SYN
DATE:
16.11.2018
TIME:
19:30
VENUE:
Shaw Theatre, 100-110 Euston Rd, Kings Cross, London NW1 2AJ
Životem protřelý král šašků je pověřen převýchovou mladého šlechtice v šaška. Novic je pod jeho vedením – a za asistence jeho kumpánů – podroben lekcím, při kterých postupně nachází své šaškovské já. Postupně dojdou k rituálu, při kterém se zrodí nový šašek.
"Nezná matku svou, ni otce svého. Vychován v ústavu pro odložené děti šlechticů. Vychován ve zbroji. Převychován však v šaška. A to vše za trest a v sedmi obrazech, v zajetí šaškujících gerontů. Příliš krásný, než aby byl šaškem na kmetišti dějin…" Bolek Polívka
Autor: Bolek Polívka
Režie: Bolek Polívka
Hrají: Bolek Polívka, Vladimír Polívka, Michal Chovanec, Ondřej Klíč, Jaromír Barin Tichý, Jiří Fretti Pfeifer, David Rotter
Scénografie: Jaroslav Milfajt
Kostýmy: Eva Jiřikovská
Hudba: David Rotter
Produkce: Marie Navrátilová
Foto: Jiří Salik Sláma
Délka: 130 min + přestávka
This event is strictly for over 15 with valid ID !
Vstup len pre osoby staršie ako 15 rokov s platným dokladom totožnosti!
NOTE!!! The show is for free seating only, please ignore seating numbers on your tickets generated automatically by our web engine.
Thank you Pishter
POZNÁMKA!!! Predstavenie je s voľným sedením, bez rezervácie sedadiel!!!
Prosím ignorujte čísla sednia na vstupenkách, ktoré systém generuje automaticky.
ĎAKUJEME váš Pishter