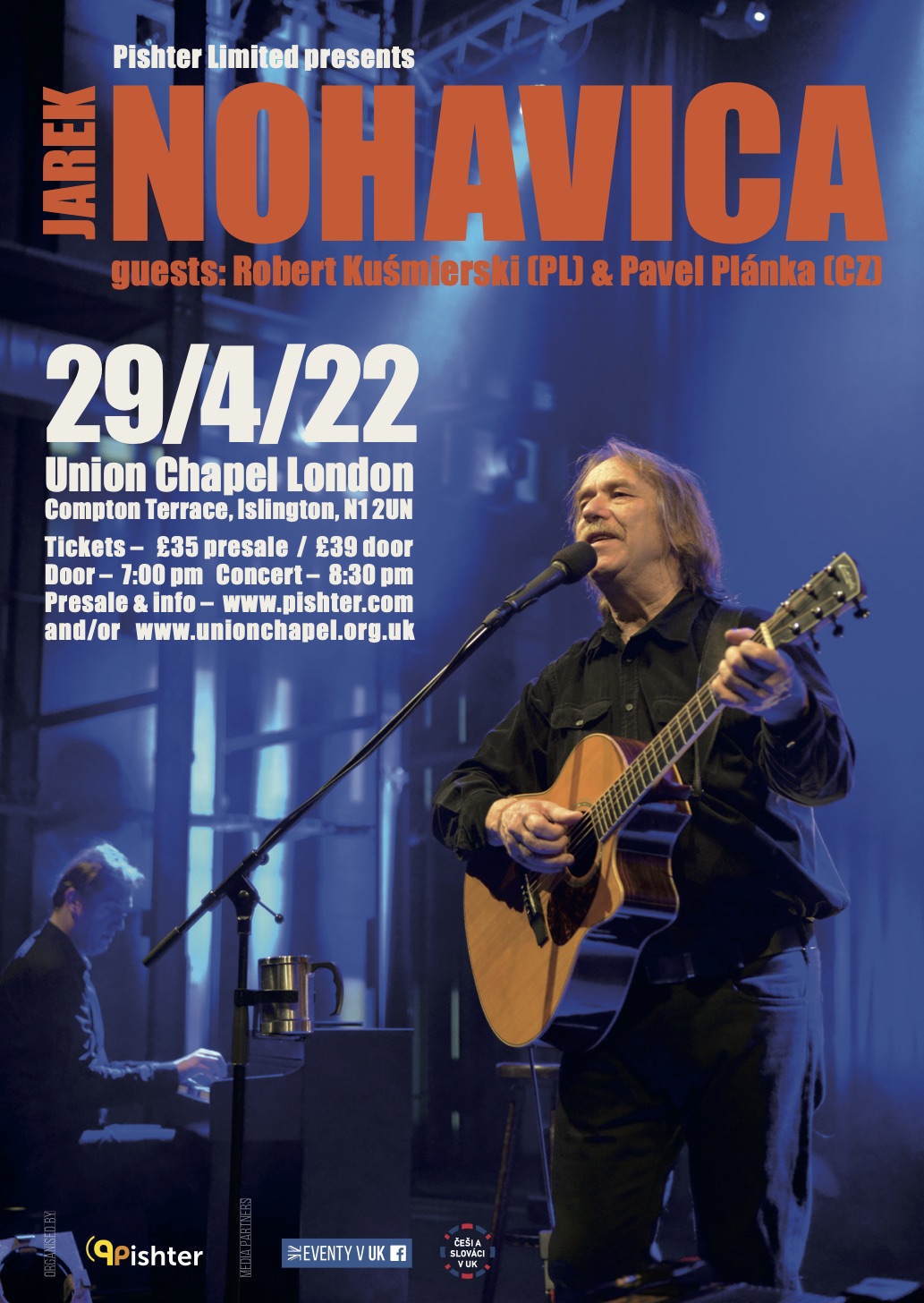 JAREK NOHAVICA IN LONDON
DATE:
29.04.2022
TIME:
19:00
VENUE:
Union Chapel, Compton Terrace, London N1 2UN, United Kingdom
Jarek Nohavica is clearly the most popular and most listened-to Czech singer-songwriter.
His concerts are often a unique experience for his listeners, as he definitely ranks among those performers who create, while on stage, a kind of gripping mystery. With great expertise, he remains poised between folk music and folklore, truly occupying the role of the bard of his region. Strikingly, he remains different from the generation of Czech folk singers from the 1960s, in that his stylistic orientation tends to look eastwards: using elements of Slavic melody, taking subject matter from a Slavic setting and inspiration from Russian Romantic literature.
Nohavica's greatest advantage is his rich vocabulary, his ear for the melodic qualities of sung Czech, and for the unique stratifications of linguistic typologies from the most literary diction through slang to vulgarisms. In his verbal expression, what immediately strikes the listener is its force, transparency, strength of rhymes, trenchant aphorisms, yearning for romanticism, simplicity and self-evidence.
POZNÁMKA!!! Koncert JAREK NOHAVICA V LONDÝNE je len na voľné sedenie (bez rezervacie konkrétnych sedadiel)!!!
Prosím ignorujte čísla sednia na vstupenkách, ktoré systém generuje automaticky.
NOTE!!! The concert JAREK NOHAVICA IN LONDON is for unallocated seating only, please ignore seating numbers on your tickets generated automatically by our web engine.
Thank you Pishter
Vstup len pre osoby staršie ako 18 rokov s platným dokladom totožnosti!
This event is strictly for over 18 with valid ID !!!
ĎAKUJEME váš Pishter
| Ticket Type | Price | Qty. | Cart |
| --- | --- | --- | --- |
| JAREK NOHAVICA IN LONDON | £35 | | |